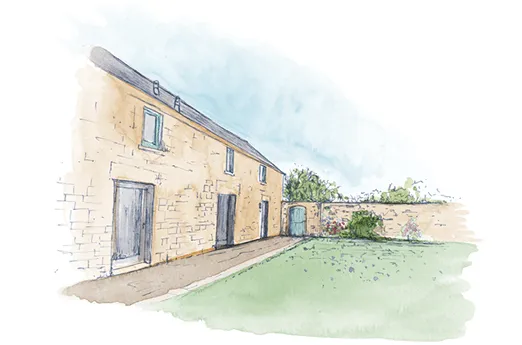 Enjoy our cottages and our four day wedding package with family and friends.
Our four day wedding package and on site cottages allow you time to relax and enjoy the set up of the wedding as much as the day itself, surrounded by family and friends.  Enjoy the luxury of time to perfect your day and the opportunity for your closest guests to join you for the days before, to share in the decorating, preparations and pre wedding excitement.
All four holiday cottages are brimming with original character, converted from 18th century farm buildings, they have been lovingly restored, preserving their exposed beams, flagstone floors and other features.
At the end of a long day of wedding decorating be greeted by cosy beds wrapped in fresh white linen and indulge in our luxurious Temple Spa products. Then rise and shine refreshed and ready for the excitement of your wedding day and celebrations. 
Mickleton Hills Farm is located on The Heart of England Way offering fantastic walks direct form your front door, all with outstanding views across the Cotswold countryside.  Unwind after your wedding set up and enjoy a short walk into Chipping Campden, to indulge in a cream tea, or a delicious meal in one of the many friendly pubs, and enjoy this special time with family and friends.
All our cottages are equipped with Temple Spa products, a basket of cosy blankets and a great collection of traditional board games for a fun cosy night in to rest and relax before the big day.  
Stunning countryside surrounds our farm and sheep paddocks wrap around the cottages offering peace and tranquility during your stay.
We only take booking instructions for our cottages from the bride and groom themselves to ensure you have your chosen family and friends around you during your wedding set up and celebrations.
If you have a question about Mickleton Hills Farm please don't hesitate to get in touch we're happy to help
info@mickletonhillsfarm.com
01386 841 939
Mickleton Hills Farm, Chipping Campden